Dr. Darragh Stewart Phd
Inwardbound Co-Founder/ Scientific Lead Facilitator.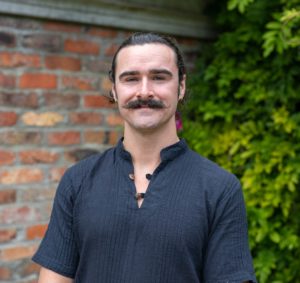 Dr Darragh Stewart (Phd) is the co-founder of Inwardbound. In his early-twenties, Darragh reached a turning point in his life. Due to the death of his grandmother, the ending of a long-term relationship, and the immense pressure of his University studies, he had a mental breakdown. He suffered from bouts of depression, anxiety, and a general dissatisfaction with how he was living his life. These problems sent him on a quest to find inner healing, truth, and a new way of being in the world.
During the rest of his twenties, he had a life-changing break-through both mentally and spiritually, with the aid of psychedelic medicines, breathwork, and the power of holistic healing. Having found the power of bodywork for emotional release during this time, he was awarded his VTCT diploma in Holistic massage therapy.
As a scientist, he is keen to cut through faux spirituality and is interested in bridging the gap between science and spirituality. Having had such a positive journey with Psychedelics he is now passionate about helping others who may also benefit from the emerging science of psychedelics by holding the retreats and collecting scientific data. He has worked with over 100 people through their psilocybin sessions and is currently writing a paper on the effects of Psilocybin on mental health.
He has also been on trips to India immersing himself in different trauma release modalities such as somatic bodywork, breathwork, embodiment dance practices, and yoga. He is also a keen meditator having sat at the Tushita Meditation center Dharamsala, and the S.N. Goenka Vipassana Center, Bodh Gaya.
He is also passionate about working with Men through times of struggle and change. He facilitates men's online workshops, events, and a men's group for psychedelic integration in Ireland.
B.A. Natural Sciences, Trinity College Dublin
Ph.D. Plant Developmental Genetics, Trinity College Dublin
Shamanic practitioner trainee – Shamanism Ireland
Transpersonal therapist training – Irish Centre for Shamanic and Transpersonal Studies (2018-)
Expanded Acceptance and Commitment Therapy for Psychedelic-assisted Therapy: Trauma-focused ACT training
Trauma incident recover trained – TIR (pre-accredited)
VTCT Diploma in Holistic Massage Therapy
Co-Founder Psychedelic Brothers of Ireland
Diploma Psychotropic plants, Centre of excellence
Vipassana 10-day silent retreat (Bodh Gaya, India)
10-day silent retreat introduction to Buddhism (Dharamsala, India)
If you would like to connect please send me an email to [email protected]
Have a listen to Inwardbound co-founders Dr Darragh Stewart and Rob Coffey give this talk entitled "The promise and challenges of psychedelic therapy" here: