Niamh OConnell
Psychotherapist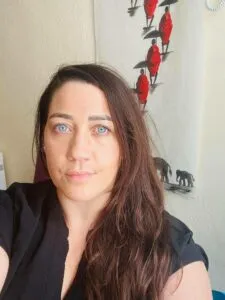 Niamh offers her skills as an accredited psychotherapist to support clients.
Niamh has worked as a therapist for 6 years and is a fully accredited psychotherapist with IACP. She works with many  challenges that clients bring into the therapy room. Some of these include; anxiety, panic attacks,  depression, suicidal ideation, grief, loss, relationship issues, gender, sexuality, low self-esteem, child  sexual abuse, self-harm, and trauma in its many forms.
Niamh has also worked in various social care  and community settings. She has worked primarily with children in state care for 10 years and their  families in residential settings, devising specific therapeutic plans and supporting a staff team in  doing so also. She has also experience working with individuals seeking asylum as well as individuals  who have been through the penal system. She also has experience of working with many  professionals who experience vicarious trauma through their professional practice.
Niamh qualified in 2012 with an honours degree in Applied Social Studies. Following this she went on  to study a Post Graduate diploma in Humanistic and Integrative psychotherapy with Turning Point  Institute obtaining her degree from Cork University College. Niamh qualified in 2017 and was fully accredited as a psychotherapist in 2020 with IACP.
Presently, Niamh is undertaking her Masters in Child and Adolescent Integrative psychotherapy with ICCP. She has also undertaken many training workshops in the areas of suicide prevention, child sexual abuse, effects of social media and online and offline bullying.  While also completing further training in: therapeutic crisis intervention, adverse trauma and its effects on  the individual and managing challenging behaviour.
Underpinning philosophy
Niamh's underpinning therapeutic philosophy is that she incorporates many modalities when working with her clients. This may range from psychodynamic, gestalt, psychosynthesis, CBT but most predominately  a humanistic approach is utilised. Niamh believes that it is the therapist's objective to sit with a client and explore which modality suits them. This is simply done by meeting the client where they are at. By sitting together in a safe space, they can begin the therapeutic journey unique to that  client.